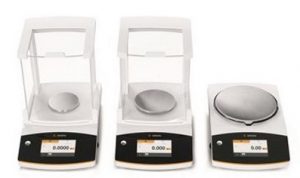 Alpha-Liberty Co. carries the Sartorius Quintix® SQP laboratory balance series which feature a new revolutionary user interface.
The Sartorius Quintix® sets new benchmarks in every aspect for standard lab balances. A number of features make your workflow much more efficient, such as fully automatic internal adjustment, direct data transfer, ergonomic style and, above all, the entirely new touchscreen user interface with built-in application programs.
Overview of Standard-Level Quintix® Balance Features
Reliability and Data Security: Reliable weighing results thanks to built-in security functions.
Leveling: Indicator-guided leveling support.
Documentation and Data Transfer: Plug & Play functionality via mini USB port and PC-Direct feature for data transfer to a computer.
For more information on the Sartorius Quintix® SQP laboratory balance series or to request a quote, please call us at 513-777-1525 to speak with an associate. Contact us online by filling out the Alpha Liberty online contact form and an associate will contact you at their earliest convenience.