High Throughput Mass Determination with Table-Top Robotic Systems
The CCR-Compact Robotic Systems offer table-top sized automated solutions for mass determination or dissemination processes up to 10 g maximal capacity.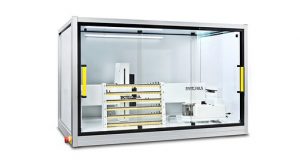 With 120 magazine positions, these systems offer a walkaway solution allowing continuous processing of the measurements overnight or over the weekend. Designed for simultaneous management of reference and test weights the Sartorius dual robotic arm system with the patented multi and single weight handlers speeds up the processes with its most efficient motion sequences and handles the weights with highest precision and consistency. The climate sensors integrated into the weighing chamber additionally contribute to the reliability of the results.
Automated weight handling at the range of 1mg to 10g not only eliminate the error rates of manual handling but significantly increase productivity which consequently leads to cost-savings long term.
Your Benefits
120 magazine positions allow overnight and weekend processing
Dual Robotic Arm Technology guarantees the most efficient motion sequences available on the market
Table-Top design saves precious laboratory space
Robustness assure the best repeatability values
Build-in Climate Sensor in the weighing cells further support measurement accuracy
3 Models fulfill your workflow requirements
For more information about Sartorius Mass Comparators, please call us at 513-777-1525 to speak with an associate or submit the Alpha Liberty online contact form and an associate will get back to you at their earliest convenience.